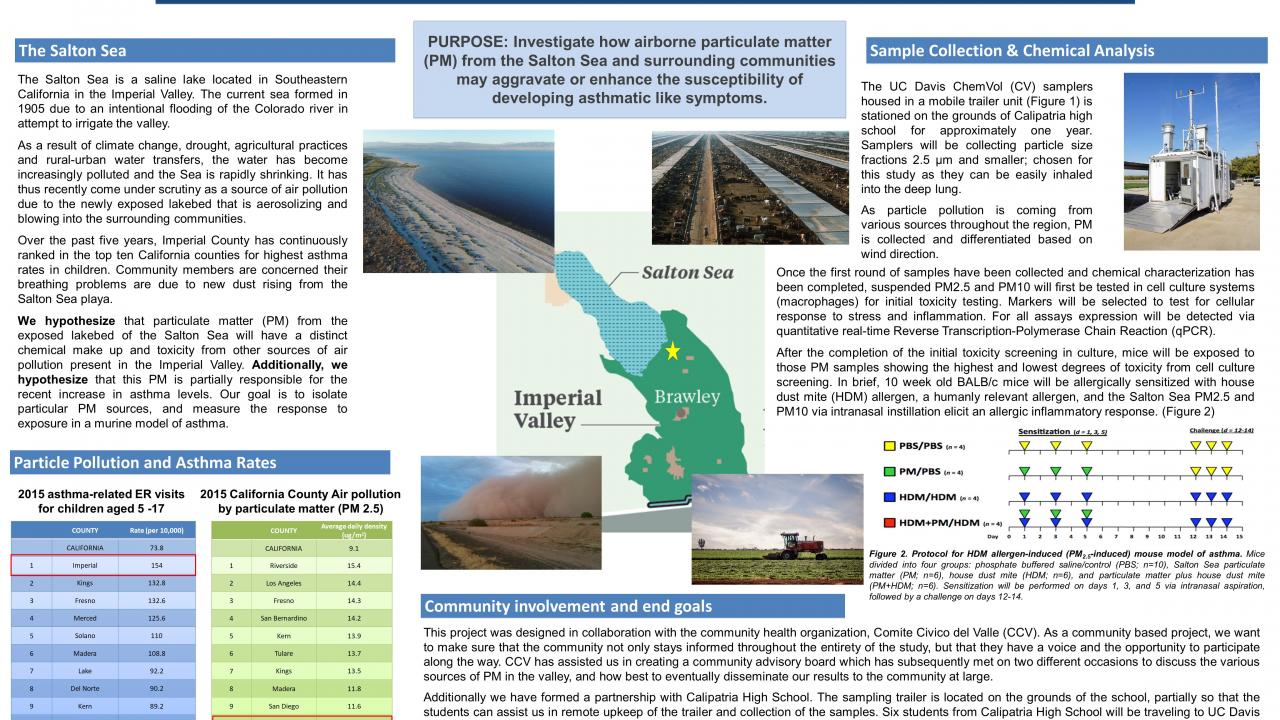 Six students and their AP Biology teacher from Calipatria High School (Imperial Valley, CA) came to UC Davis to study the air quality issues and particulate matter (PM) health effects of their Valley.  The costs for travel, housing and dining hall rights (in connection with the UC Davis Young Scholar Program) for the six students and their science teacher were fully covered by a scholarship grant written by UC Davis graduate student Savannah Mack (Molecular, Cellular and Integrative Physiology graduate group) who is leading our research efforts on air quality near the Salton Sea and throughout the Imperial Valley. 
Funds supporting travel and housing at UC Davis have been awarded through a rapid response grant from the Western Center for Agricultural Health and Safety (WCAHS). The students' visit with their teacher to UC Davis is based in an ongoing community pilot study funded by the UC Davis P30 NIEHS Environmental Health Science Center (EHSC) on air and water quality issues in the Imperial Valley. The goal of this pilot study is to determine whether different sources of PM from the Imperial Valley and the Salton Sea may be associated with the high levels of asthma in Imperial Valley children and teenagers. Imperial County has one of the highest rates of childhood asthma in the state of California.
These students and their science teacher will continue to assist us in the coming months after returning home to collect air samples on filters in a UC Davis mobile field unit located at their high school in Calipatria.  Their involvement is absolutely essential to the success of this research study, along with guidance from the local Imperial Valley advisory group and the staff of Comite Civico del Valle (CCV).